What is Seniors' Centre Without Walls?
Through the use of multi-person phone calls, SCWW provides the opportunity for participants to join in on health and wellness seminars, educational lectures, recreational activities, listen to live musical entertainment, join in on general conversations, and make new and meaningful friendships – all from the comfort of their home! SCWW works in the same way as attending a class or a lecture at the community centre, but instead is facilitated over the telephone.
This Canadore College chapter of Seniors' Centre Without Walls made possible by the amazing Club Action 50+ East Ferris group who have been working with Canadore staff to be the pilot group for this initiative!
This programming is FREE for anyone over the age of 55+
Programming consists of multi-person phone conversations (or conference calls)
No special technology is needed – you just require access to a telephone or cell phone!
Phone sessions last between 30-60 minutes
You will be able to hear our hosts, hear each other, talk to community members, and have fun while doing it!
How does it work?
You just pick up and call in to a toll free number when you would like to join a session!
You will join on a call with several other participants
SCWW Staff/Volunteers will host the call and guide you through the session!
What are the Benefits?
Relieves isolation and loneliness
Creates friendships and community
Easy to access!
REGISTER NOW!
Register Now!
Call 705-474-7600 ext 7989 and leave your name and number.
We will get a call back to complete registration within one business day.
You can also email Micheline.mcwhirter@canadorecollege.ca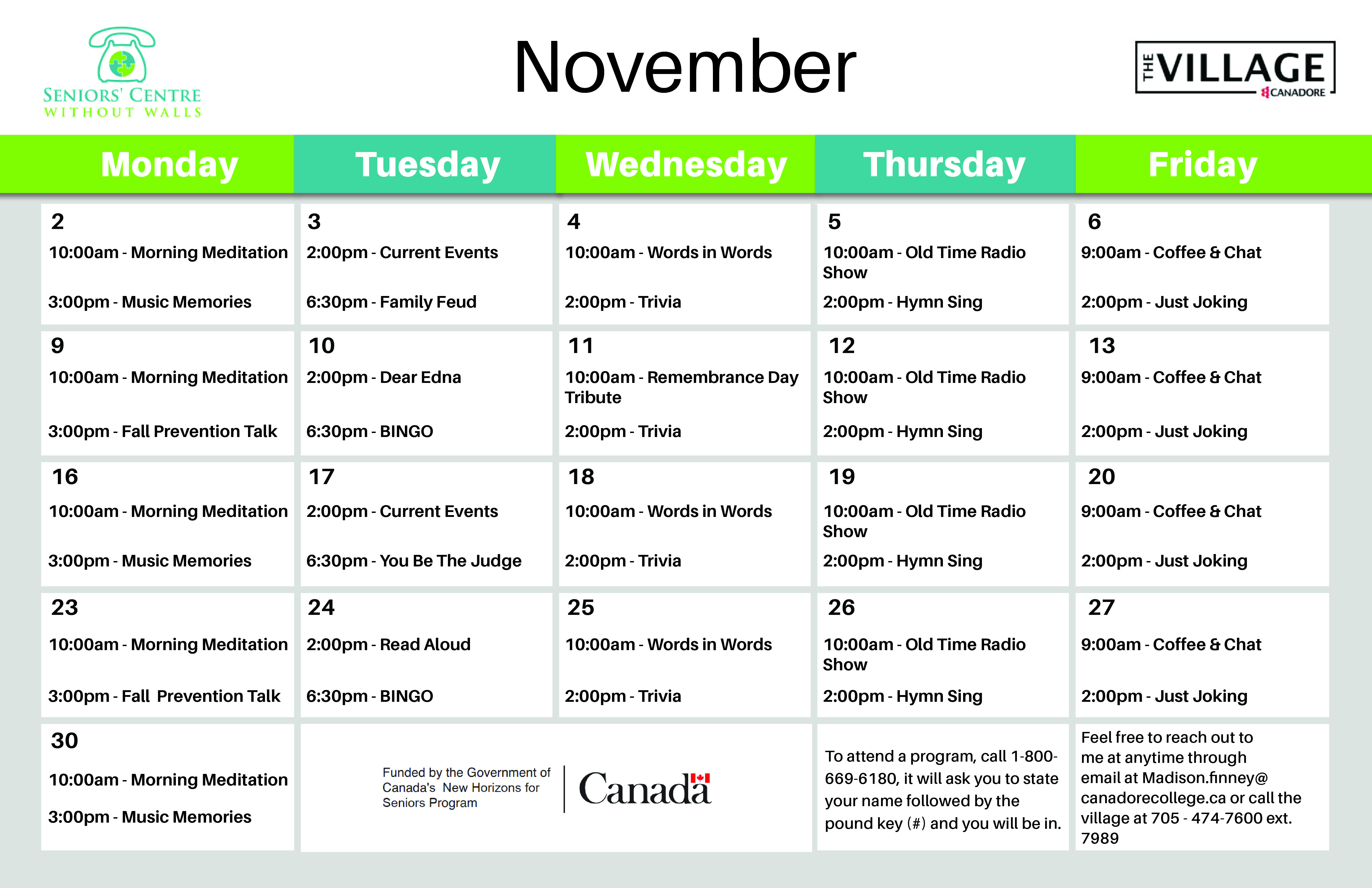 Safe Space Policy:
The aim of the SCWW program is to ensure that all participants have a rewarding, enjoyable, safe, and memorable experience. We ask that all participants follow these guidelines:
Allow the host/guest speaker of your session to lead the group
Allow all participants to contribute - try not to take over the conversation.
Please be kind and courteous to everyone on the call, and allow participants to finish their thoughts without interruption
Important: Everyone is welcome on these calls! This means that the calls are respectful to everyone and all identities surrounding race, ethnicity, culture, religion and/or spirituality, age, levels of mental/physical ability, gender identity, gender expression, or sexual orientation.

Contacts: