All Stories
Welcome Pow Wow returns to Canadore College and Nipissing University
Sep 16, 2022 | Cindy Males, Public Relations and Communications Specialist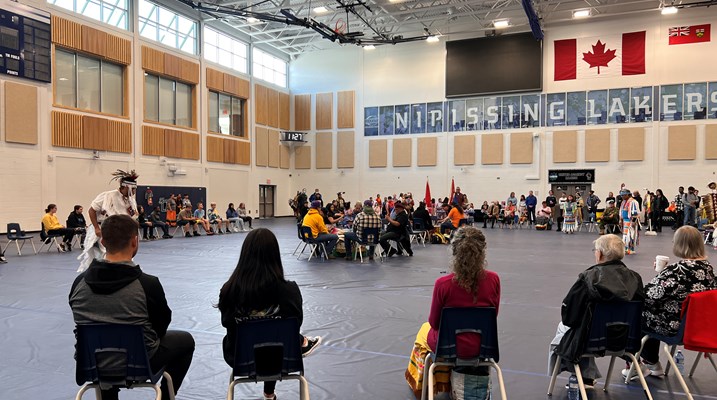 Traditional Indigenous singing and dancing could be heard Friday on the Education Centre campus in North Bay. Organized by Nipissing University's Office of Indigenous Initiatives, Canadore College's First Peoples' Centre, and the Aboriginal Students Association, the annual Welcome Pow Wow has been greeting new and returning students for 17 years.
"The Pow Wow is a social event that invites people of all backgrounds to come and spend time with the Indigenous community and get introduced to the Pow Wow circle," said Gerald McComb, First Peoples' Centre Cultural Advisor. "The event gives an opportunity for students to connect to the community, and to learn about services that are available to them as well."
"The Welcome Pow Wow is an incredible gathering of Indigenous and non-Indigenous students, staff, and community members," said Emily Couchie, Student Success and Development Coordinator, Nipissing University's Office of Indigenous Initiatives. "Everyone is welcome and encouraged to participate. The annual Welcome Pow Wow is such wonderful way to start the year."
The Pow Wow welcomes people to campus and celebrates Indigenous culture. Different types of dances and regalia are the order of the day.
The threat of inclement weather forced organizers to move the Pow Wow into the R.J. Surtees Athletic Centre, but it did not diminish the excitement for the event.
"The importance of the annual Welcome Pow Wow instills our commitment to the Truth and Reconciliation Commission's recommendations, and the United Nations Determination on the Rights of Indigenous Peoples," said Judy Manitowabi, Canadore's Director of the First Peoples' Centre and Indigenous Engagement. "We want the community to see, hear and be a part of this celebration. It is a time to share and celebrate a new academic year highlighting the significance of our culture as Indigenous people."
#Aboriginal #College Drive #First Peoples' Centre #Indigenous Studies #Student Life
---
---